A new trend has come in the entry of bride in weddings, now bride entry is not done in a normal way. Let us introduce you to the 10 most spectacular and different bride entry. In which there is entry of Brides maid with great quote on the plank.
10 Mind blowing Bride Entry that more beautiful your entry.
Trending – 1 | Bride Entry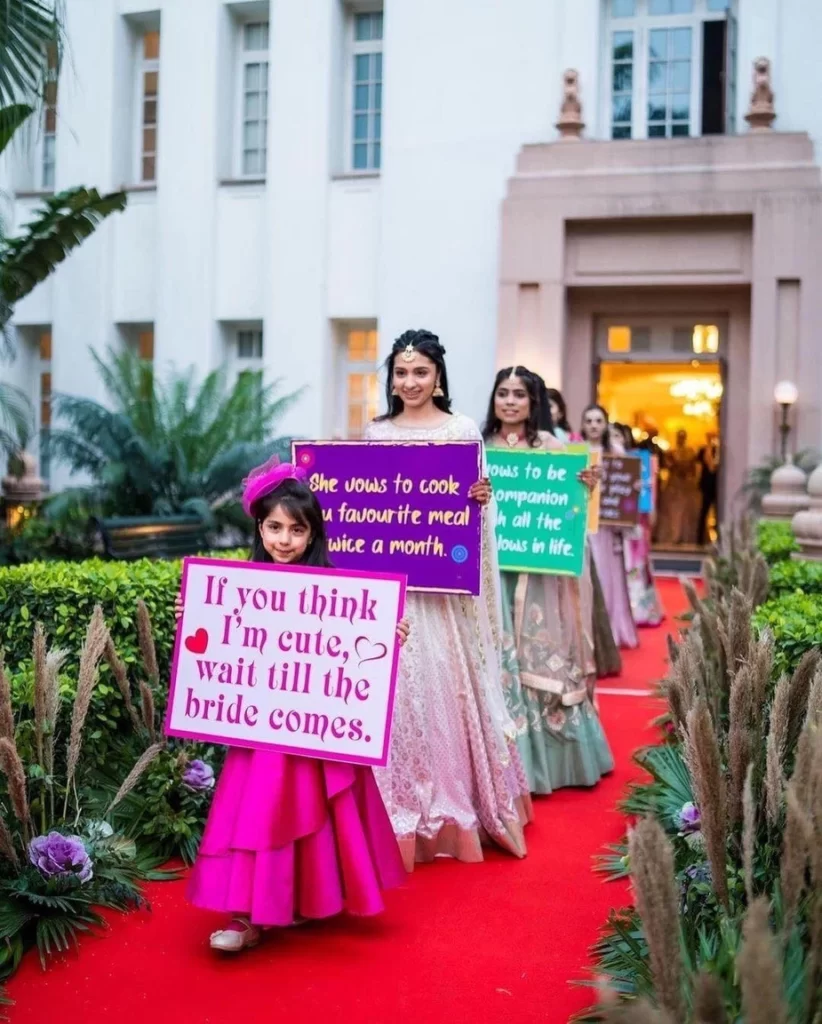 A wonderful bride entry in which you can enter with the whole gang with your sisters and friends with a plank in hand. Write a wonderful quote on the placard which is going to impress everyone. This will make your entry very spectacular and photography is going to be amazing, it also has fun with the entry.
Trending – 2 | Bride Entry
When you enter in this manner, your entry will become memorable. When both of you will enter with a plank written like this in your hands, then this look will be in a different style. You write a funny quote on the plank, so that it becomes even more spectacular. As the bride writes such a quote ( HE HAS LOST HIS RIGHTS TO FLIRT #JUSTMARRIED ) and the groom (Ham Nhi Sudhrenge ) it is very funny.
Trending – 3
Afflict the groom a little, then show his face. You can do this unique bride entry with your sisters or friends. It will be a very funny and fun entry with the groom. In this as you are looking. The bride is standing face to face and the bride's friend is teasing the groom with a board. You can plan this type of entry in your wedding.
Trending – 4 | Bride Entry
Really cuteness is overload, if you have a cute little doll or a cute little child in your house, then you can enter like this, you can write a special quote by decorating such a cart. This will be the cutest entry. You can also call it Best Cute Bride Entry.
Trending -5
Banno Chali Sasural, how can you forget this. You can make your entry grand by using this type of print graphics in your wedding. This entry is going to look great in your wedding.
Trending – 6
Sister's gang is the biggest fan of marriage, it is the most annoying to brother-in-law. At the time of marriage, the atmosphere of happiness is created by the sisters and when the bride enters, then the gang of the bride, that is, all the sisters can enter together with the bride in this way. This will be the entry concept that will make your entry very memorable. "Roses Are Red Violets Are Blue , Pay Here so She Can Go With You.
Trending -7
In marriage, how can it happen that brother and sister should not have fun with brother-in-law. Nowadays there is a different trend of having fun with brother-in-law in this way and this makes your atmosphere very happy. You can make such a board and write the terms and conditions in it in some funny way. This is going to be the coolest and funniest concept for a bride entry.
Trending -8
This custom is never going to go away, now the bride will come, then you will pay money and get shoes. This is the oldest practice in the marriage of us Indians, in which the younger siblings or friends of the house plan something like this together and hide the shoes of the groom. Then the same thing doesn't work until there is money. You can take some kind of concept in your bride entry in your marriage. Slogan – "Paise Do Joote Lo"Paisa do Joote Lo
Trending -9
In the forefront, the younger sister holding an umbrella and holding the tag of (Here Comes My Sister) in her hands, entered the wonderful bride. This is a beautiful entry concept to strengthen the love of two sisters. You can plan something like this for your sister in your wedding.
Trending -10
Hey hey wait, just this trending 10 beautiful and beautiful bride's entry in which you can make your entry very sweet and beautiful by writing a funny quote on a beautiful plate in a sheet of flowers with your brothers and sisters.
---
Image Credit
@saraidrees_ | 2. @pictureme_india | 3. @arushi_12 | 4. @madeinheavenstudios |
5. @loveshootrepeat | 6. @studiokellyphotography | 7. @happyframes_ @radhika_kapurkhanna | 8. @happyframes_ @radhika_kapurkhanna | 9. @dreamdiariesindia @yatikanagpal | 10. @weddingkalakarindia