Every bride is very curious for her marriage and for every ritual that takes place in the wedding, like what will she wear in which ceremony, how will she look, how will she enter so that people can see her different and look good, for this every bride What does nothing do, likes the best outfits, hires the best makeup artist, etc.
Apart from the above mentioned things, a bride should also take special care of her entry. The entry of the bride in the marriage attracts a lot of people, the entry of the bride should be so special that everyone's eyes stay on her only.
Let us have a look at some such special bridal entries.
Phoolon Ki Chaadar
Flower Chadar is an evergreen option for a bridal entry. Its trend never gets old, yes you can change its design and flowers with time.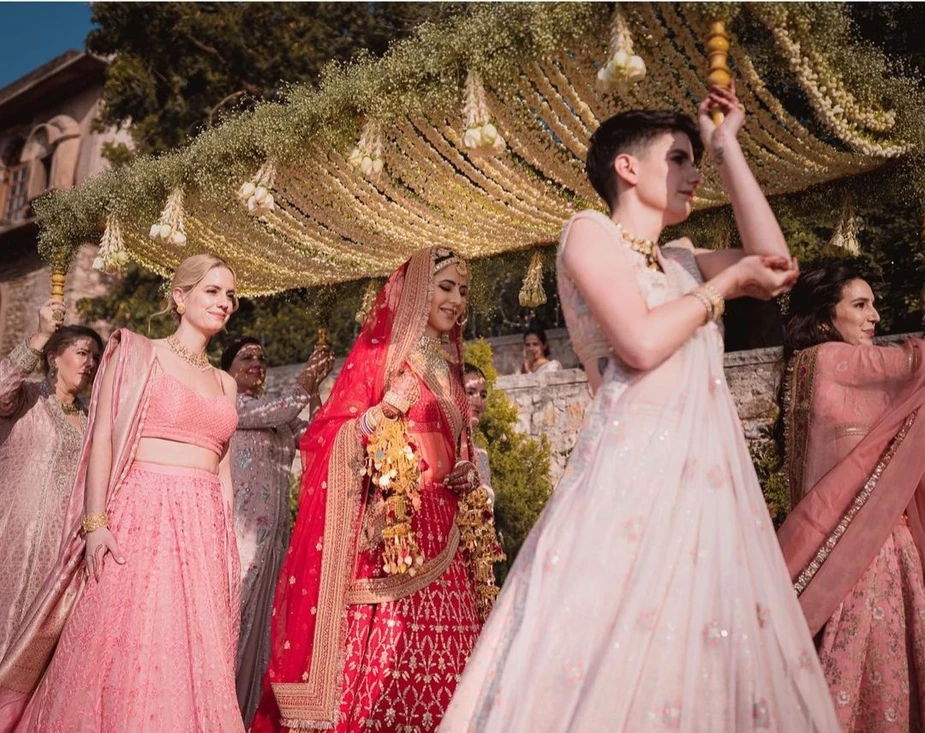 Phoolon ki chadar is a very popular choice for bridal entry, even in all the celebrity weddings, you must have seen that all the actresses have opted for different types of flower sheets for their entry, which is also quite beautiful. Looks. In this, if you want, your friends can also hold it from all sides, whether your brothers can hold it and if you want, your sisters can also hold it.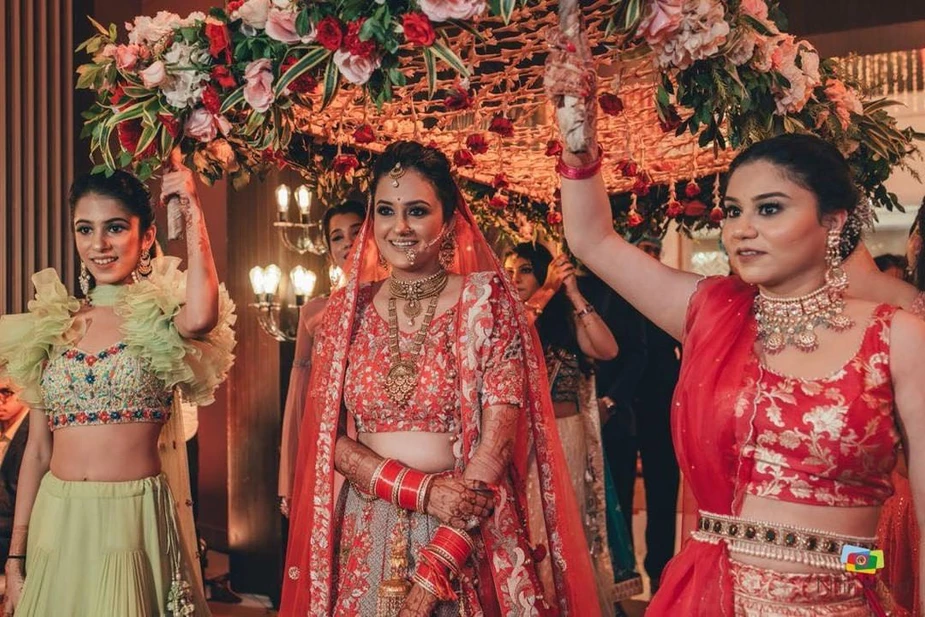 If your entry is in day light then you can choose dark colored phoolon ki chadar and if your entry is in night then you should choose light colour.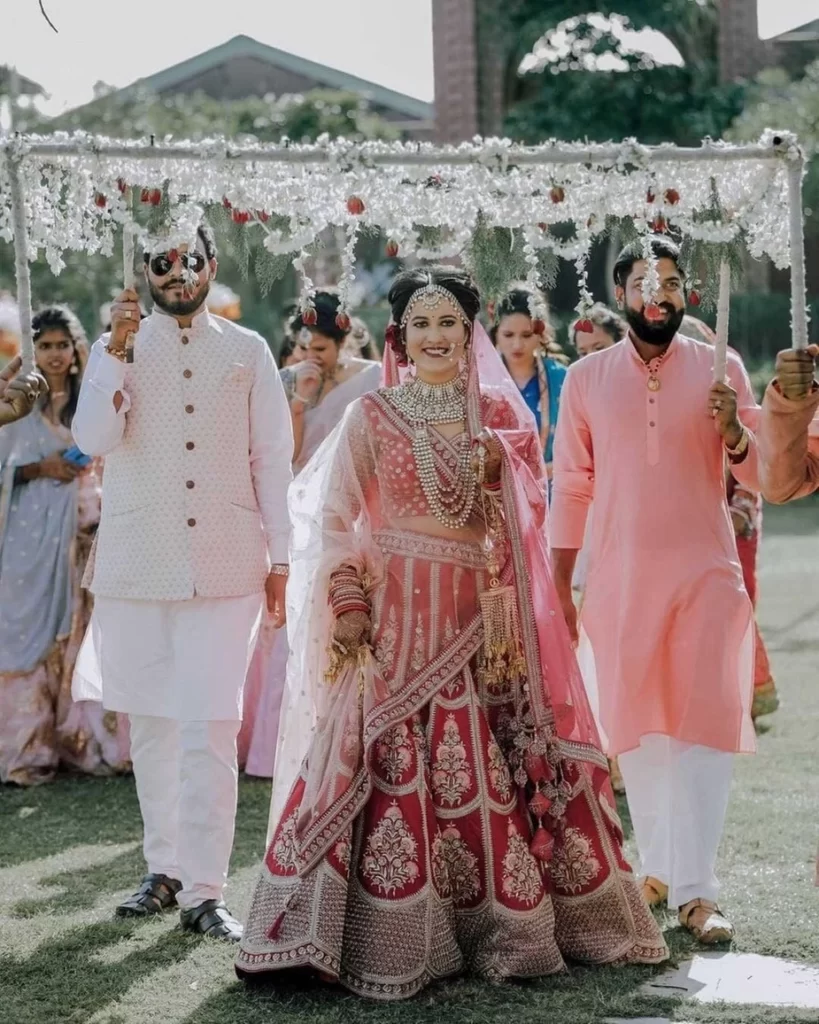 You can also keep the option of kalira in the phoolon ki chadar , it also looks very beautiful.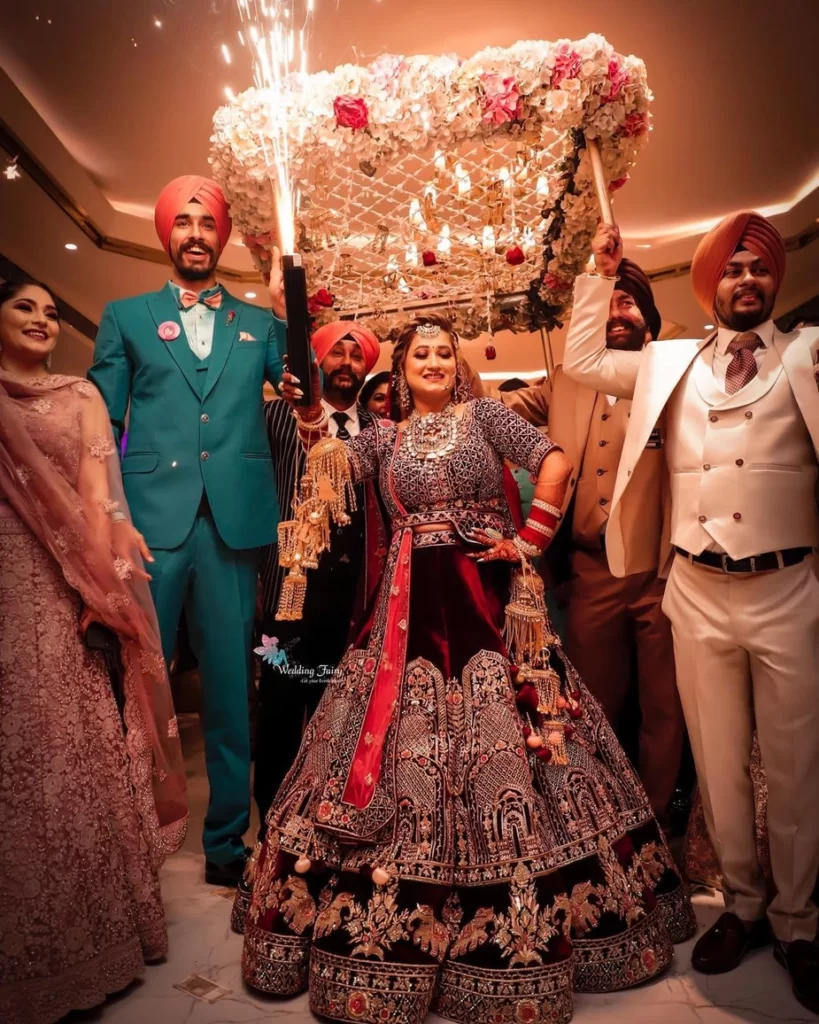 You can also use pom pom in your phoolon ki chadar to make your chadar look colorful and different.
You can also design your phoolon ki chadar by mixing both original +artificial flowers.
Note :- While finalizing the design of the Phoolon ki chadar , you should always keep one thing in mind, always choose the chadar keeping in mind the color combination of your outfit .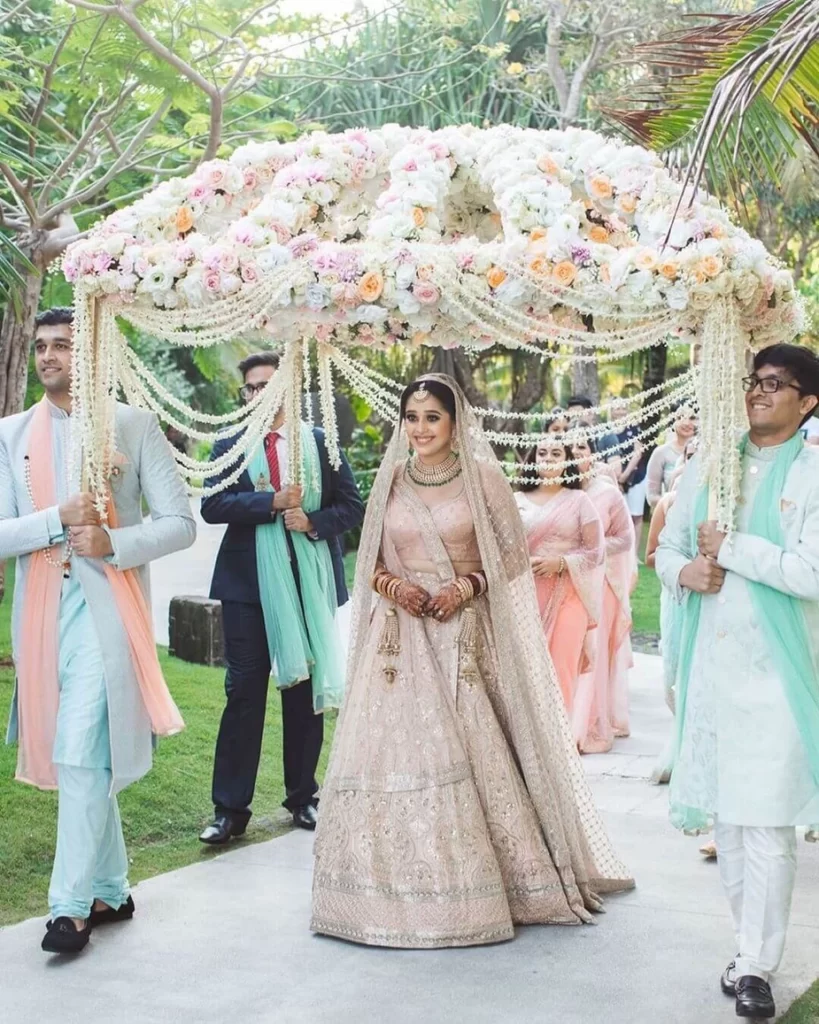 Cold fire work
Cold firework is the life of every marriage, that means there is no substitute for cold firework in any marriage, either in the varmala or in the entry, it is used somewhere, it also looks very beautiful but it is always in these night. Mostly it looks beautiful as its lighting looks more beautiful in the dark, so you can also opt for cold firework for your bridal entry.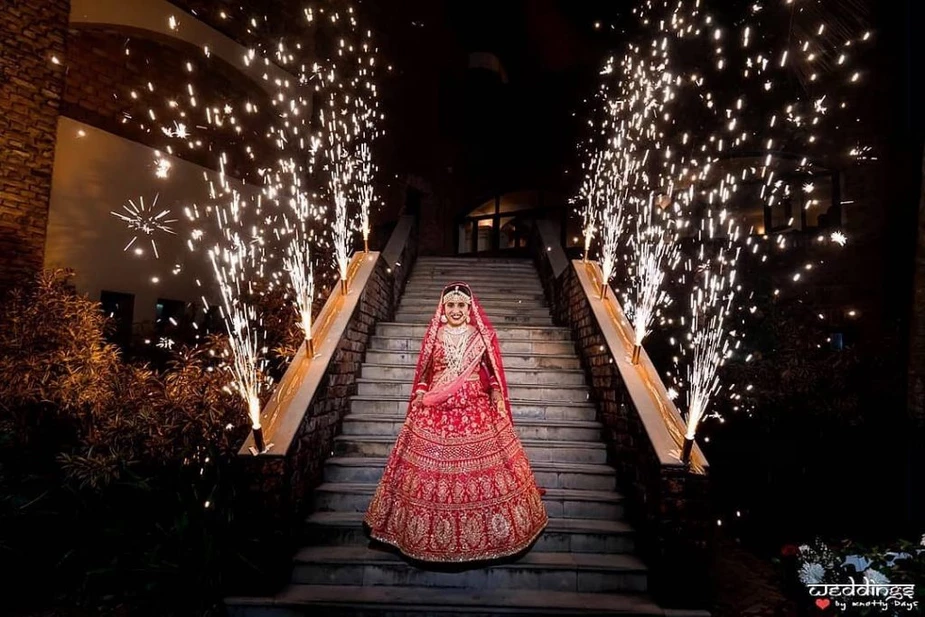 You can get cold firework installed on both sides of your entry and there will be a way in the middle, from there you can enter. Always keep in mind that cold firework is always done in sets of 2-2 .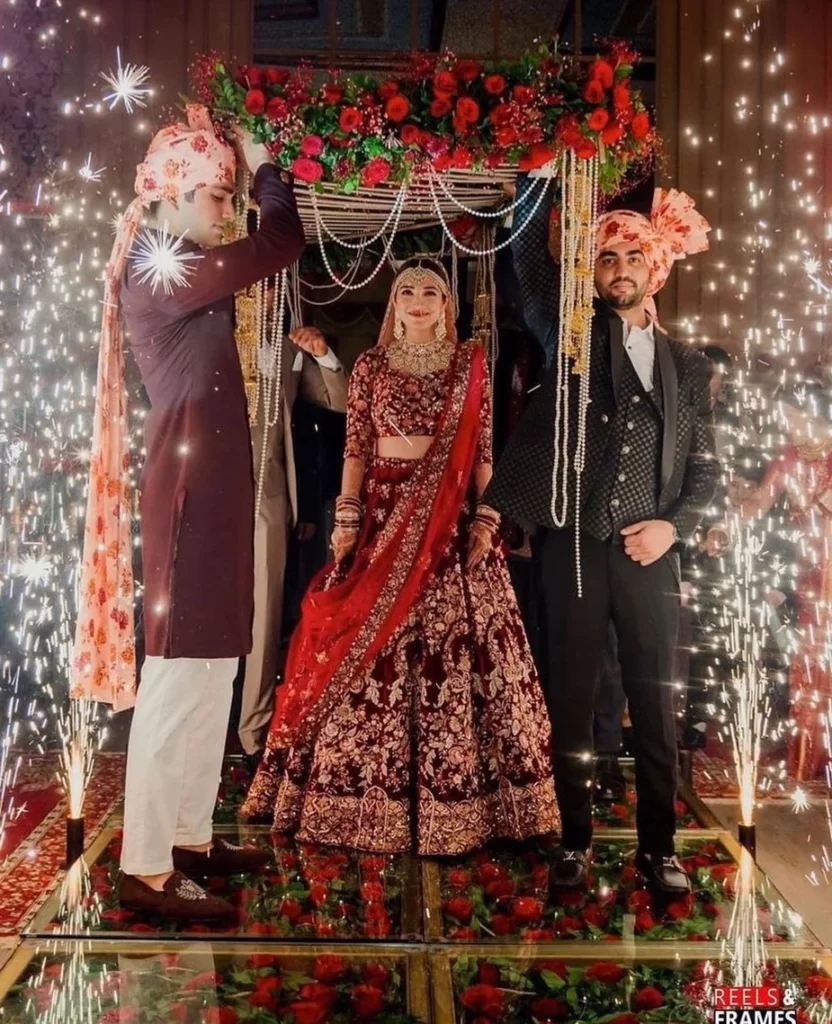 If you do not want to put cold firework in your entry, then you can also make it stand by holding cold firework sticks in the hands of your friends or siblings and that too becomes a way from where you take entry. can. If siblings or friends are not available, then you can also replace them with an artist.
Note:- Please get all these things done only under the supervision of experts.
Decorative Umbrella
You can also use decorative umbrella for your bridal entry which is also very much in trend right now.
You can choose the color of the umbrella of your choice or matching it with your outfit, the rest of the red colored umbrella which is decorated with flowers looks very beautiful.
It is not necessary that you use a fabric umbrella for the umbrella, you can also use an umbrella without fabric, It can be a simple frame shaped like an iron umbrella which is decorated only with flowers, which looks very beautiful. This umbrella can be held by the father, brother or sister of the bride.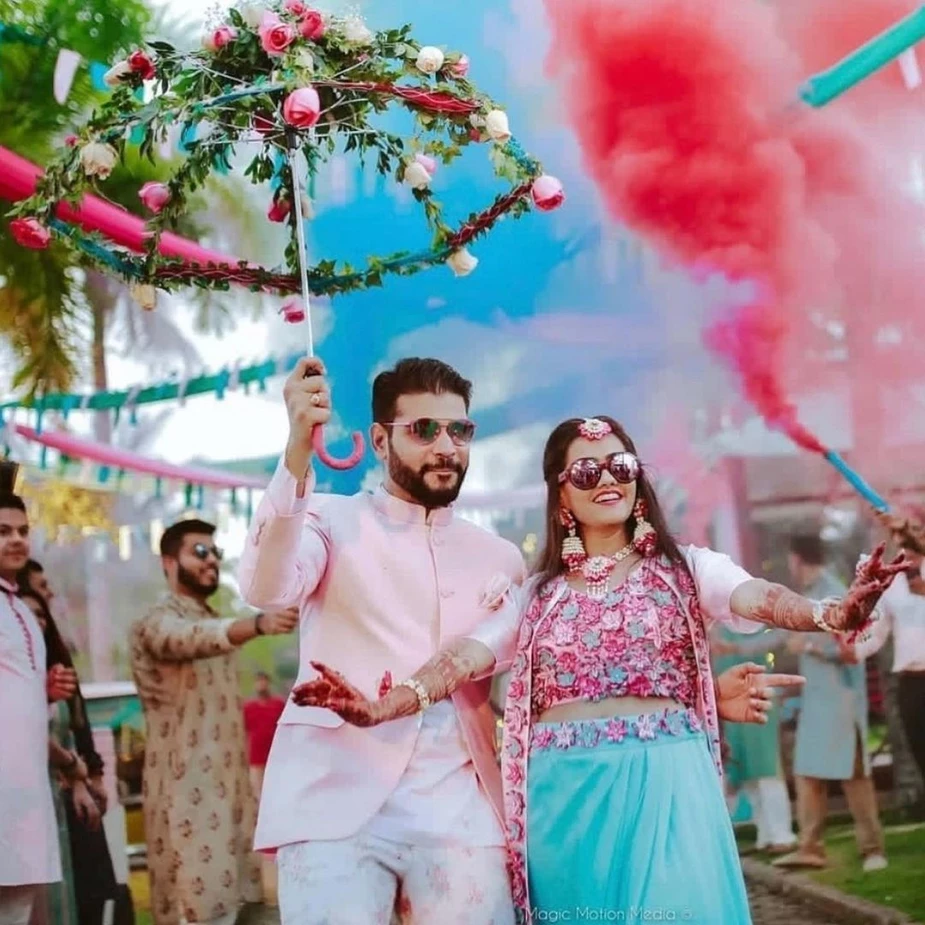 Dry ice pots
A very new and cool concept for the entry of the bride which is in trend right now is dry ice mats. In this, according to the distance, you can put more pots as far as the distance is.
Smoke comes out like a cloud from the pots of dry ice and it spreads in the way of your entry, so that it seems that the clouds have come down from the sky and a fairy bride is taking entry from the clouds .
This smoke is frozen CO2, which is not harmful at all because it is quite heavy, as a result of which it does not rise up and spreads below. Believe me, it adds charm to the entry of the bride.
Note:- Please get all these things done only under the supervision of experts.
Mirror sheet( acrylic sheet)
This entry is also very popular. Mirror sheet which looks exactly like glass but in reality it is acrylic sheet.
In which you can see yourself exactly like glass, yes you can put it on the way of your entry, according to the distance and there is no fear of breaking in it because it is not glass, so it is in any way is not harmful. When the bride walks on it, her exact reflection is seen on this sheet, which in itself looks very beautiful and the photography is very wonderful, in this way your bridal entry can become very beautiful and unique.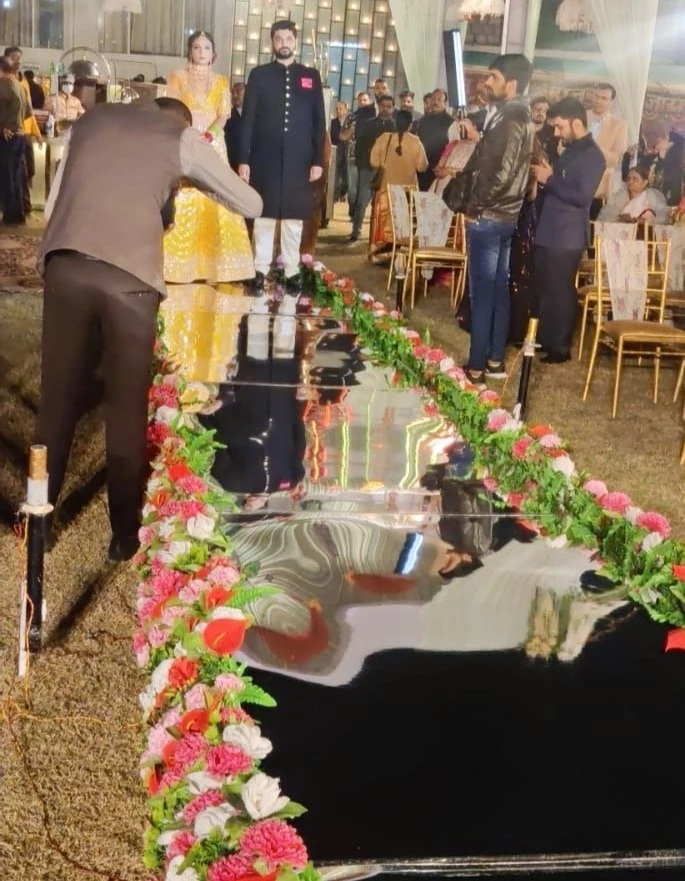 Note:- Please get all these things done only under the supervision of experts.
Doli
Although it has been an ancient tradition for the bride to come in the doli, but now again the same traditions are in trend again and the new generation is also very much liking these old traditions.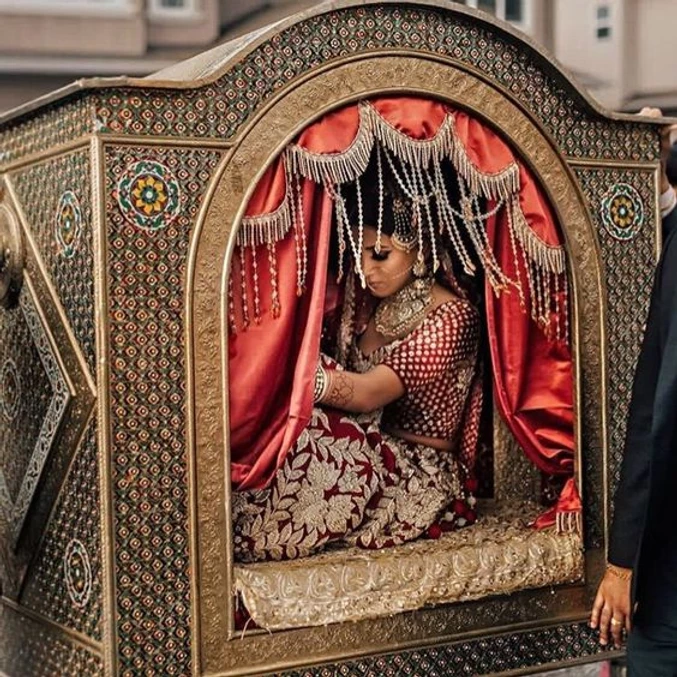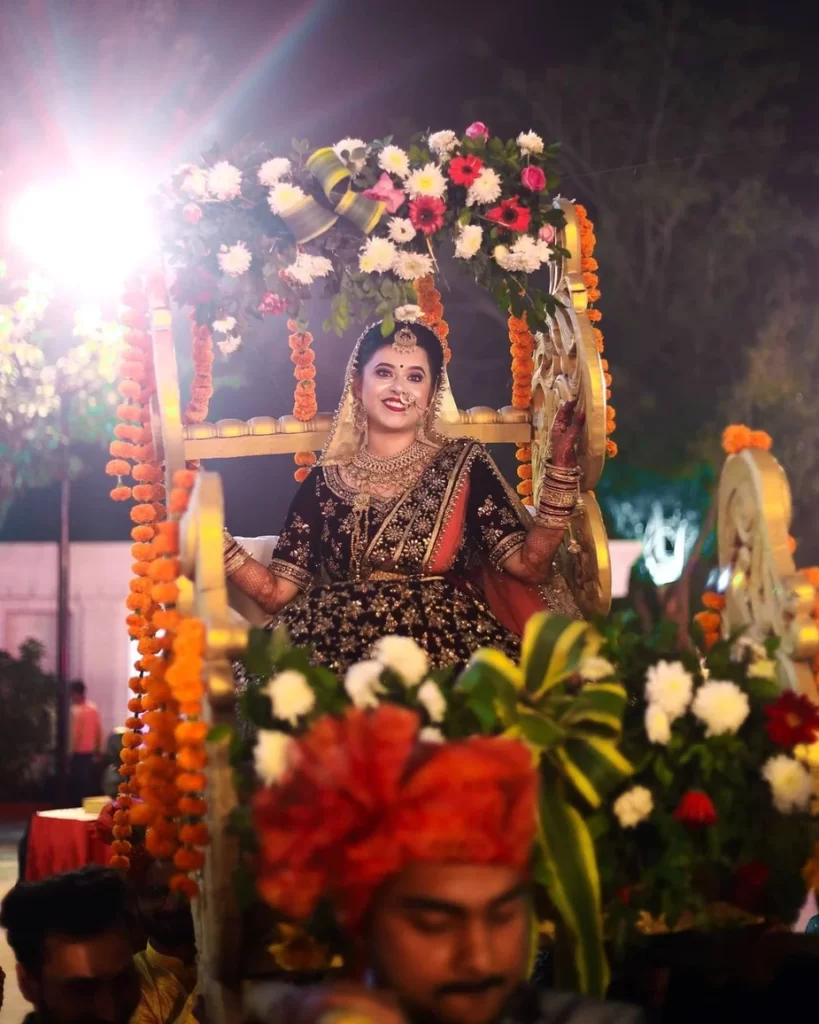 But now these traditions which have come into practice again, some changes have been made to them. It is open in which the bride comes sitting and everyone can see the bride.
Nowadays, many types of design dollies are in trend, on which flowers are decorated, every doli's shape is also different, which looks quite beautiful.
Cart | Baggi
Bride can also take entry in her marriage from cart or bagghi which we call. There are many different types of bagghis available in the market, small, big, long, iron, decorated with flowers, etc. There are many types of bagghis from which the bride can take entry.
You can either take some manpower to pull it or else most of the bagghis these days are electronic which do not require pulling they move automatically. It can also be a great option for a bride's entry.
Artists
For the entry of the bride, there is a lot of trend nowadays for artists of different cultures. Like some Rajasthani, Mirror artist, Angel artist, Rajwadi arts, South Indian artist, Bengali artist etc.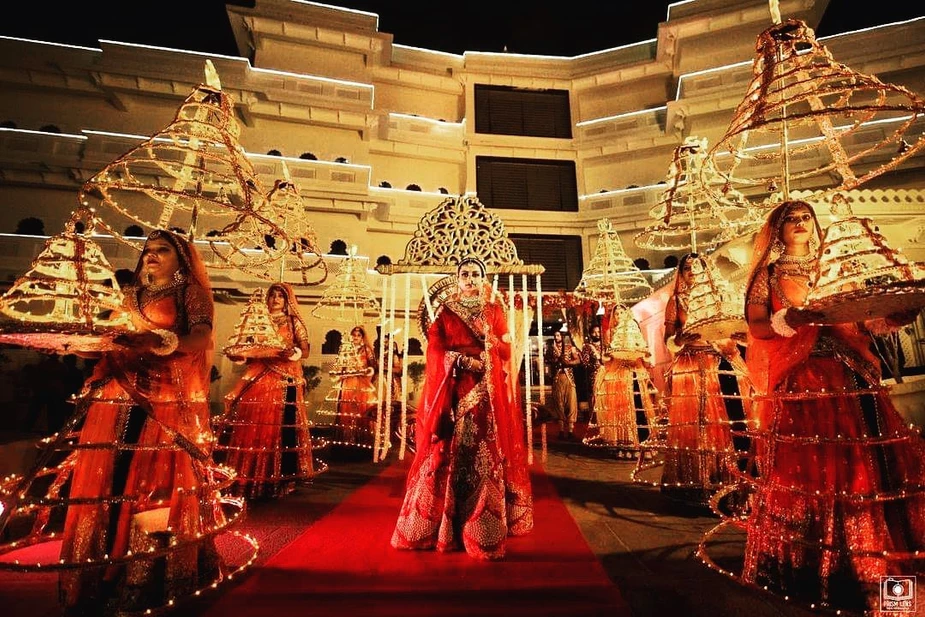 Many types of artist can take their entry even while dancing with the outfit of their own culture or walking with the bride. Even with a Russian artist, the bride can take her entry, which in itself looks quite beautiful. It can also be a great option for a bride's entry.
Vintage vehicle
Vintage vehicle means ancient or very old vehicles from the time of kings and kings that they used.
A lot of craze of vintage vehicles can be seen in the present generation, so if you are choosing the option of vintage vehicle for the entry of bride, then it proves to be a very good option. Vintage vehicle can be used in old cars, jeeps etc. which look amazing and can make your wedding entry very beautiful and memorable. So you can enter your wedding by sitting in a vintage vehicle or even by driving it yourself.
With Bridesmaid
The best, cute, simple and easy way to get a bride's entry is with the bridesmaid. For this, you can take entry with different props while dancing with your close friend, sister etc., laughing and joking.
For this, everyone's outfits should be decided in advance, either everyone's outfits should be the same or if you decide a theme, then the bridesmaids can decide their outfits according to that and then see how wonderful your bridal entry is. You will enjoy the entry yourself as well as the viewers will enjoy it a lot and your wedding entry will become memorable for you forever.
---
If you are also searching for a bridal entry for yourself or someone close to you, then here we have given very good options, which one of them you like best, definitely tell and if you are married and you want to see this for your close ones then tell us by commenting how you took entry in your marriage so that we too can add something new here.