Ramada Udaipur Resort and Spa, nestled amidst the picturesque Aravalli hills, is a dream wedding destination for couples looking for a perfect blend of royal charm and modern luxury. With its exceptional facilities, dedicated wedding planners, and delectable cuisine, the resort ensures an unforgettable experience for you and your guests. In this blog, we'll take you through the various aspects of hosting a wedding at Ramada Udaipur Resort and Spa, including costs, facilities, and more
Ramada Udaipur Resort & Spa: Guide & Budget
Wedding Cost:
The cost of hosting a wedding at Ramada Udaipur Resort and Spa varies depending on the guest count, type of event, and services required. On average, the cost ranges from ₹20 lakh to ₹30 lakh for a guest list of approximately 200 people. This includes accommodation, venue rental, food, and basic decor. Additional services, such as entertainment, specialized decor, and transportation, will incur extra charges.
Booking and Facilities:
Ramada Udaipur Resort and Spa offers 72 well-appointed rooms and suites that can comfortably accommodate your guests. The resort features multiple venues, both indoor and outdoor, that can cater to various wedding events such as the sangeet, mehendi, wedding ceremony, and reception. The resort's lush gardens, elegant ballrooms, and rooftop terrace offer a breathtaking backdrop for your special day.
Best Things about Ramada Udaipur Resort and Spa:
Picturesque location with panoramic views of the Aravalli hills
A wide range of venues to choose from, accommodating both intimate and grand celebrations
Personalized wedding planning services
On-site spa and recreational facilities for guests
World-class hospitality and exceptional service standards
Food and Catering:
Ramada Udaipur Resort and Spa boasts of its culinary excellence, offering a diverse range of cuisines to suit every palate. From traditional Rajasthani dishes to international fare, the resort's experienced chefs can customize menus to meet your preferences. The resort also offers live food stations and themed food counters to add a unique touch to your wedding feast.
Wedding Venues In : Udaipur Guide & Budget
Wedding Planner:
The dedicated wedding planning team at Ramada Udaipur Resort and Spa ensures that every aspect of your wedding is meticulously planned and executed. From selecting the perfect venue to coordinating with vendors, the wedding planners are committed to making your dream wedding a reality. They work closely with you to understand your vision, offering personalized solutions and expert advice.
Find Best Wedding Planner In Udaipur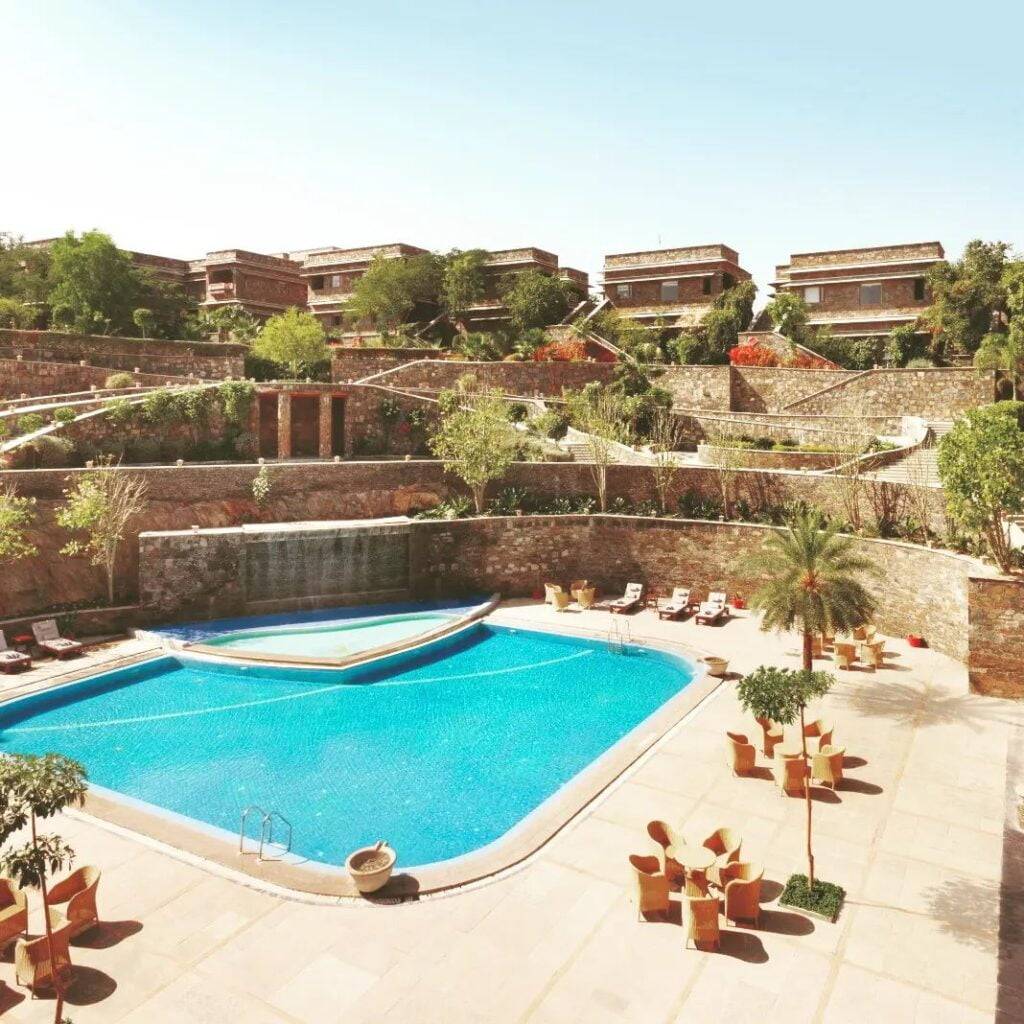 Ramada Udaipur Resort and Spa is an ideal choice for couples seeking a royal wedding experience amidst the enchanting beauty of Udaipur. With its stunning location, world-class facilities, exceptional service, and dedicated wedding planners, the resort promises to make your special day truly unforgettable. So, if you're planning to tie the knot in the City of Lakes, Ramada Udaipur Resort and Spa should undoubtedly be on your shortlist of wedding venues.