Your pre-wedding shoot is the perfect opportunity to capture the essence of your love story and create everlasting memories. For Indian couples, the pre-wedding shoot is not just a photoshoot; it's a celebration of love and a chance to tell your unique story. If you're looking for extraordinary Outdoor Pre-Wedding Shoot Tips, you're in the right place. In this blog, we'll explore some romantic and unique outdoor pre-wedding shoot ideas, with a focus on picturesque locations in Rajasthan, Pune, Delhi, Uttar Pradesh, and Madhya Pradesh.
Pre-Wedding Shoot Ideas | Outdoor Shoot
The Royal Romance in Rajasthan:
Rajasthan's regal heritage and stunning architecture provide a captivating backdrop for a pre-wedding shoot. Here are a few ideas:
a. Jaipur's Palaces: Get dressed in royal attire and capture your love in the grandeur of the City Palace or the iconic Hawa Mahal.
b. Jaisalmer's Sand Dunes: Embrace the desert's romance with a shoot at the golden sand dunes, as the sun sets behind you.
c. Udaipur's Lakes: Sail on the serene waters of Lake Pichola or Lake Palace, creating a dreamy atmosphere for your photos.
Pune's Nature's Embrace:
Pune, with its lush greenery and pleasant climate, offers a beautiful natural canvas for your pre-wedding shoot:
a. Lavasa's Lakeside: Plan a romantic shoot by the serene lakeside at Lavasa and capture moments of togetherness.
b. Mulshi Dam: Get adventurous by taking a boat ride on the Mulshi Dam, surrounded by the mesmerizing Sahyadri mountains.
c. Agri Tourism Village: Experience the rural charm and capture the essence of your love story amidst farms and rustic landscapes.
The Heart of India in Delhi:
Delhi, the heart of India, presents a multitude of possibilities for your pre-wedding shoot:
a. Humayun's Tomb: A UNESCO World Heritage Site, it offers a historical and majestic backdrop for your love story.
b. Lodhi Gardens: With its lush gardens and architectural marvels, Lodhi Gardens provide a picturesque setting for a romantic shoot.
c. Hauz Khas Village: Combine history with contemporary charm as you explore the urban yet rustic environment.
The Grace of North India in Uttar Pradesh:
Uttar Pradesh boasts a rich cultural heritage, offering splendid pre-wedding shoot locations:
a. Taj Mahal, Agra: Celebrate your love like royalty at the iconic Taj Mahal or explore the romantic Mehtab Bagh across the Yamuna River.
b. Lucknow's Historical Sites: Capture your love amidst the city's historical monuments and picturesque gardens.
c. Varanasi's Ghats: For a spiritual and serene experience, consider a shoot by the banks of the Ganges River.
The Mystical Magic of Madhya Pradesh: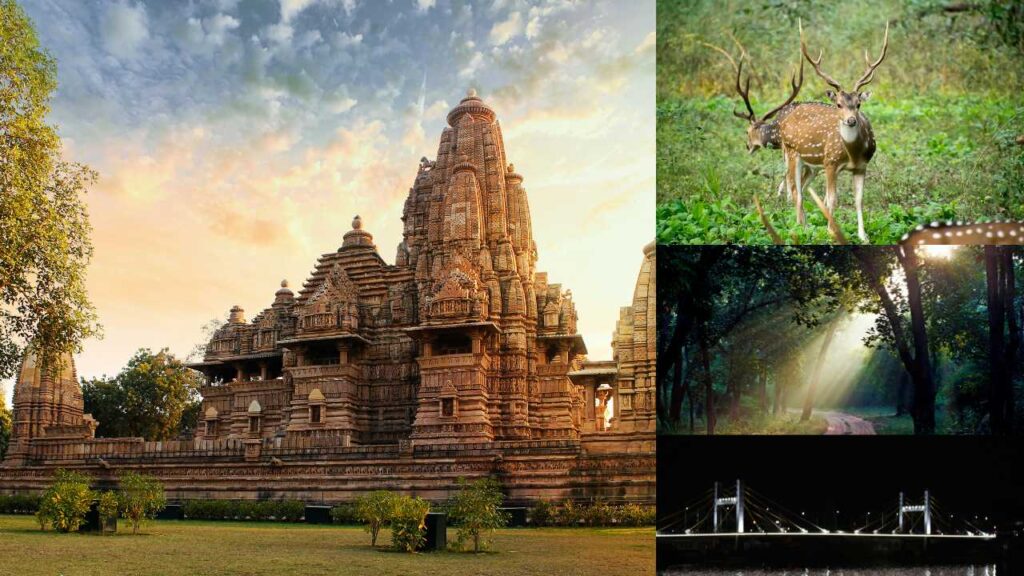 Madhya Pradesh, with its serene natural beauty and rich cultural heritage, is a unique choice for your pre-wedding shoot:
a. Khajuraho's Temples: Explore the intricately carved temples of Khajuraho, known for their exquisite sculptures and architecture.
b. Bhopal's Lakes: The 'City of Lakes' offers several stunning locations like Upper Lake and Lower Lake for a serene shoot.
c. Gwalior Fort: The majestic Gwalior Fort provides a historical backdrop for your love story.
Conclusion:
Your pre-wedding shoot is an opportunity to cherish the romance you share and the journey you're about to embark on together. Each location in Rajasthan, Pune, Delhi, Uttar Pradesh, and Madhya Pradesh offers a unique flavor, and your choice should resonate with your love story. So, pick the destination that speaks to your hearts, embrace the beauty of the outdoors, and create memories that will last a lifetime. Your love story deserves nothing less than the extraordinary.
Jaipur Honeymoon Guide: A Romantic Getaway on a Budget
Event Sfx Wholesaler In India