Choosing the perfect makeup artist for a bride is an essential part of her wedding preparations. A skilled makeup artist can make her feel beautiful and confident on her special day. Here are some crucial points to keep in mind while booking a makeup artist for the bride.
Tips for Finding the Ultimate Makeup Artist
Don`t Forget This Read For Bridal Makeup
Check Before Book
Research and recommendations:
Start your search by asking friends and family for recommendations, as they might have experience working with good makeup artists. Also, search online for local makeup artists and read reviews to get an idea of their work.
Check their portfolio:
Before finalizing a makeup artist, make sure to look at their portfolio to understand their style and expertise. Ensure that their work aligns with the bride's preferences and the wedding's theme.
Experience and specialization:
Choose a makeup artist who has experience working with brides and specializes in bridal makeup. They should be well-versed in creating different looks for various functions, such as engagement, sangeet, and wedding ceremonies.
Discuss the bridal look:
Before booking the makeup artist, have a detailed discussion about the desired bridal look. Share pictures and ideas with the artist to make sure they understand your expectations and can create the desired look.
Knowledge Of Final Budget, Products Etc
Schedule a trial session:
A makeup trial session is a must before finalizing the artist. It helps the bride and the makeup artist understand each other's preferences and ensures that the final look is as envisioned.
Availability and punctuality:
Ensure that the makeup artist you choose is available on the wedding day and can reach the venue on time. Punctuality is crucial, as any delay can impact the entire wedding schedule.
Budget and packages:
Discuss the cost of makeup services and packages offered by the artist. Ensure that their charges fit within your budget and that they provide value for the price. Don't hesitate to negotiate if you think their prices are too high.
Use of quality products:
Make sure that the makeup artist uses high-quality, branded makeup products that are suitable for your skin type. Using good quality products ensures long-lasting makeup and reduces the risk of skin reactions.
Backup plan:
It's always good to have a backup plan in case the makeup artist faces any last-minute emergencies. Ask them if they have a backup artist or a team to step in if needed.
Contract and payment terms:
Once you've decided on a makeup artist, make sure to have a written contract detailing the services, pricing, and terms. Discuss payment terms and ensure that both parties are comfortable with the arrangement.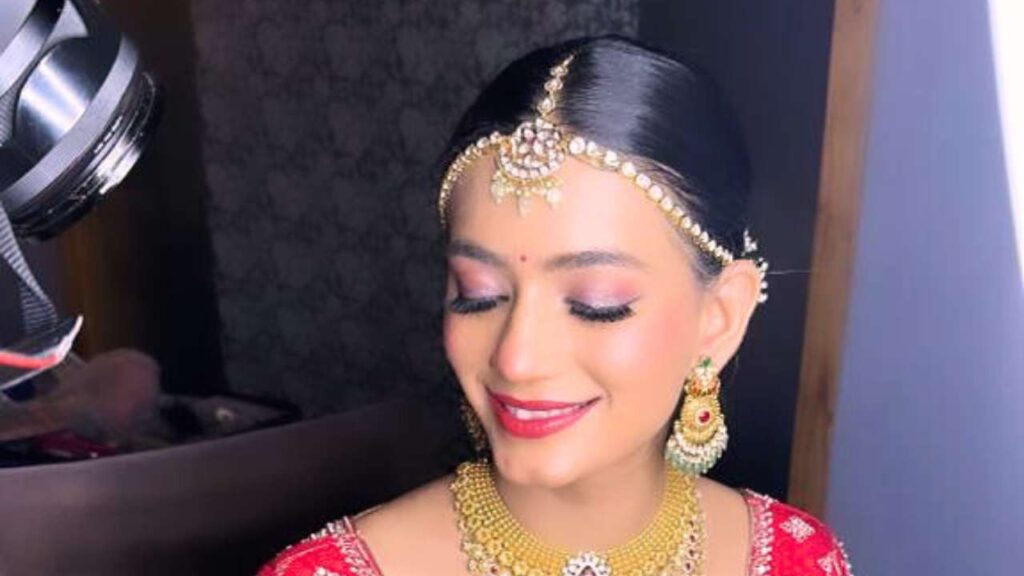 Best Makeup Artist In Indore: Makeups By Neha Garg
Conclusion:
Booking the right makeup artist for a bride is a crucial aspect of wedding planning. By keeping these points in mind, you can ensure that the bride looks and feels her best on her special day. Always remember to trust your instincts and prioritize the bride's comfort and preferences while making this important decision.