One snowy night in New York, Ayushi met Sarthak at a game night hosted by a mutual friend. Even though it was cold outside, they decided to go for a walk after dinner. They talked and laughed for hours, feeling an instant connection that they couldn't ignore. It was a special night that changed their lives forever. True Love
True Love
Surprise Proposal: True Love
As the months went by, Ayushi and Sarthak became closer and closer. One day, Sarthak asked Ayushi out on a date. She couldn't believe what he had planned: a helicopter ride over New York City! It was the most unusual and exciting date she could ever imagine. While they were high in the sky, Sarthak told Ayushi those three magical words: "I love you." She quickly said "yes," and from that moment, they were a happy couple.
Dream Comes True 😍💖
In February, Ayushi and Sarthak decided to get married. They invited their family and friends to celebrate with them. They wanted their wedding to be unique and unforgettable, so they chose a royal Rajasthani theme. They loved the idea of bringing the beauty of the desert state to their special day.
Rajasthan Wedding Dream: True Love
The wedding was a dream come true. Everything was decorated with the colors and patterns of Rajasthan. The bride and groom wore traditional Rajasthani clothes, and the guests were amazed by the beautiful and exotic atmosphere.
During the ceremony, Ayushi and Sarthak exchanged their vows, promising to love and support each other for the rest of their lives. Their friends and family were overjoyed to witness the union of two people who were so deeply in love.
After the ceremony, everyone enjoyed a delicious meal filled with the flavors of Rajasthan. They danced to traditional Rajasthani music, and the entire night was filled with laughter and joy. It was a magical celebration that none of them would ever forget.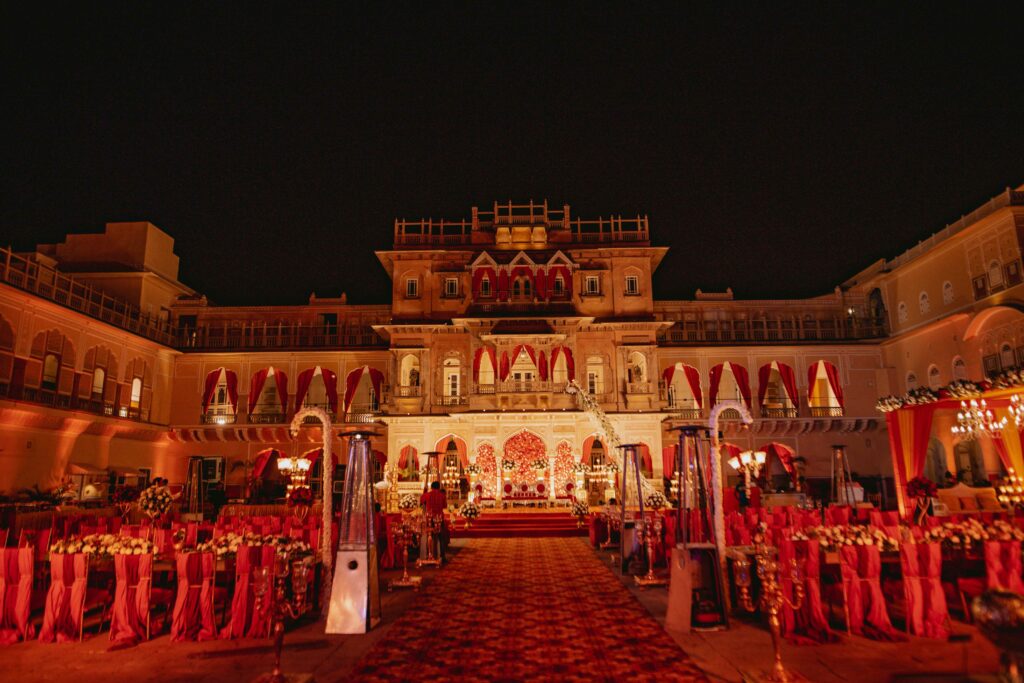 As Ayushi and Sarthak start their new life together, they are excited about the adventures ahead. They know that they will always remember that snowy night in New York when they first met. And they will cherish the memories of their beautiful Rajasthani wedding, surrounded by the love of their family and friends.
Best Wedding planner In Rajasthan
Blessing🥰
The story of Ayushi and Sarthak is a reminder that love can be found in the most unexpected places. Sometimes all it takes is a chance encounter to change the course of our lives forever. With love and support, Ayushi and Sarthak will continue to grow together, facing the challenges and joys that life has to offer.