Maharashtrian brides are known for their vibrant and colorful wedding attire, elegant makeup, and exquisite jewelry. To capture the essence of your special day, we've curated a list of 50 Maharashtrian bridal makeup captions for Instagram that will add a touch of charm and beauty to your wedding photos. So go ahead and flaunt your stunning bridal look on social media with these captivating captions!
Instagram Captions for Maharashtrian Bridal Makeup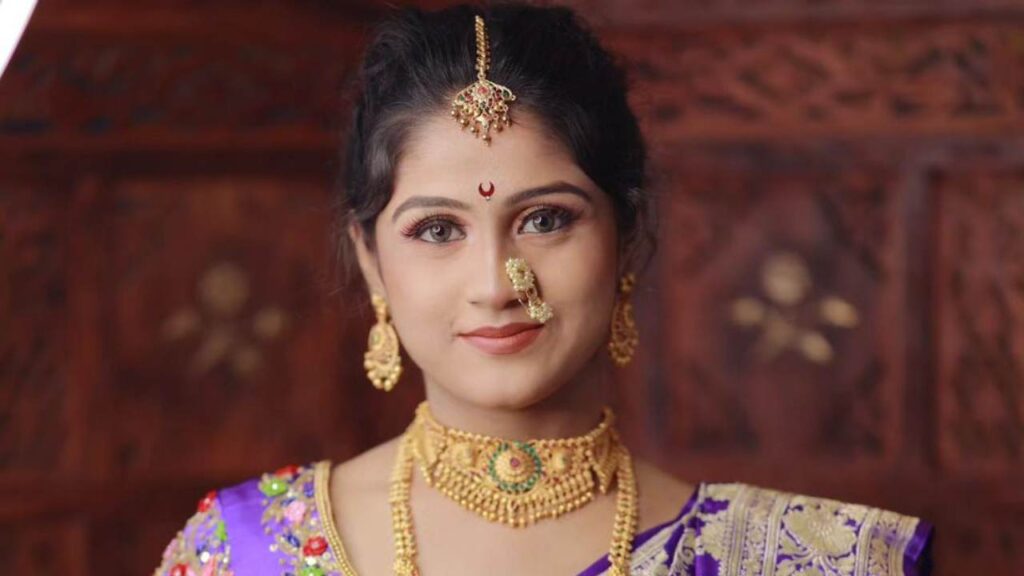 The Maharashtrian bride: A perfect blend of tradition and style 💍

Flaunting my Marathi Mulgi swag on the big day! 🌟

A touch of tradition meets a dash of glam! 💄

Grace, elegance, and royalty: The essence of a Marathi bride 👑

Embracing my roots with a modern twist 💖

Bridal glow on point! ✨

Nauvari and nath: My kind of power dressing 💪

Celebrating love in the land of warriors and poets 🌸

The quintessential Maharashtrian bride is here! 💃

Love, laughter, and happily ever after 💕

That moment when the perfect bridal makeup meets a dazzling smile 😊

Keeping it traditional and oh-so-gorgeous! 💯

From Miss to Mrs. in style! 💋

Dressed in elegance, adorned with pride! 🌺

Red lips and rosy cheeks: The recipe for a stunning Marathi bride 💄

Beauty, grace, and a touch of divine blessing 🙏
From simple to stunning: The transformative power of bridal makeup 💋

Embracing the legacy of Maratha queens and princesses 👑

With a touch of makeup and a whole lot of love, my bridal journey begins 💕

Bold, beautiful, and ready to say 'I do' 🌟

Love shines brightest on a Maharashtrian bride's face 💖

A vision in gold and green: The epitome of Maharashtrian bridal elegance ✨

Capturing the essence of Marathi tradition in every detail 💄

A smile that can outshine a thousand stars 💫

Wedding day bliss: When your makeup game is strong 💪

My happily ever after starts with this stunning bridal look 💕

A regal bride for a love story that's nothing short of a fairytale 👑

Tradition meets contemporary: The perfect modern Maharashtrian bride 🌸

A masterpiece in the making: The journey of a Maharashtrian bride-to-be 💍

Here's to love, laughter, and a lifetime of gorgeous bridal makeup looks 💋
100+ Instagram Captions For Bridal Makeup
Slaying the bridal game, Maharashtrian style! 💁‍♀️

A royal affair: Embracing the Maratha legacy 👑

When your bridal makeup is on fleek, you know it's going to be a fantastic day! 🌟

Celebrating love, culture, and tradition in every hue 💛

Timeless beauty, modern charm: The perfect Marathi bride 💖

The wedding glow that can light up the world ✨

The essence of Marathi culture woven into every stroke of makeup 💄

Unapologetically traditional, undeniably beautiful 💯

A hint of gold, a touch of glamour 💛

A heart full of love, a face glowing with joy 💕

A perfect blend of grace and radiance 🌟

Marathi bride: A symbol of elegance and simplicity 🌸

Every bride's dream come true: A flawless Maharashtrian wedding look 💍
The journey of a thousand smiles begins with a perfect bridal makeup 💋

When your makeup artist works magic on your big day ✨

The art of looking flawless while staying true to your roots 🌺

Embarking on a new journey with style and grace 💖

The perfect bridal makeup to complement my Maharashtrian charm 💄

Radiant and ready for the big day! 💁‍♀️

A stunning Marathi bride-to-be in all her glory 💍
Find Effects Sfx Wholesaler In India
Conclusion: Your wedding day is one of the most important days of your life, and it's only natural to want to share your joy and stunning bridal look with the world. These 50 Maharashtrian bridal makeup captions for Instagram are perfect for showcasing your beauty, grace, and the rich cultural heritage that is an integral part of your big day. So go ahead and let your wedding pictures do the talking with these captivating captions that celebrate love, tradition, and the enchanting charm of a Maharashtrian bride.