Grand Hyatt Goa, a luxurious beachfront property, is the epitome of elegance and grandeur, making it the perfect venue for your dream wedding. This stunning resort, spread across 28 acres of lush greenery, offers a picturesque setting, world-class facilities, and impeccable service to ensure your special day is truly memorable. In this blog, we will explore the charges, booking process, rooms, facilities, celebrity weddings, location, and key features of this magnificent wedding venue.
Charges and Booking:
The charges at Grand Hyatt Goa depend on various factors, such as the choice of indoor or outdoor venue, the number of guests, catering preferences, and additional services required. It is recommended to contact the hotel directly for a customized quotation based on your specific requirements. Booking can be made through their website or by contacting their dedicated wedding specialist to discuss your vision and finalize the details.
Rooms and Accommodation:
Grand Hyatt Goa offers 314 luxurious rooms, suites, and villas, all designed to provide the ultimate comfort and relaxation for you and your guests. With breathtaking views of the Bambolim Bay, plush furnishings, and state-of-the-art amenities, the accommodations are perfect for a comfortable stay during your wedding festivities.
Facilities:
The resort boasts a plethora of facilities, including:
Multiple indoor and outdoor venues: Choose from the majestic ballroom, lush lawns, or stunning beachfront for your wedding ceremony and reception.
World-class catering: The talented culinary team at Grand Hyatt Goa offers a wide range of cuisines to suit your taste, from traditional Indian fare to international delights.
Spa and wellness center: The Shamana Spa provides a serene sanctuary for pre-wedding relaxation and rejuvenation, offering a range of therapeutic treatments and massages.
Swimming pool and fitness center: Stay active during your stay with a well-equipped fitness center and a picturesque outdoor swimming pool.
Dedicated wedding specialist: A professional wedding planner will work closely with you to ensure every detail is taken care of, from décor and entertainment to photography and transportation.
Celebrity Weddings:
Grand Hyatt Goa has been the choice of several celebrities for their lavish weddings, including the union of Indian cricketer Yuvraj Singh and actress Hazel Keech. Their star-studded affair featured a stunning beachfront ceremony, followed by a glamorous reception in the hotel's opulent ballroom.
Location:
Grand Hyatt Goa is situated in Bambolim, North Goa, overlooking the pristine Bambolim Bay. The resort is conveniently located just 25 minutes from the Goa International Airport, making it easily accessible for both domestic and international guests.
How to Book:
To book your dream wedding at Grand Hyatt Goa, visit their official website or contact their dedicated wedding specialist via email or phone. They will be happy to assist you in planning the perfect celebration tailored to your preferences and vision.
Best View and Key Features: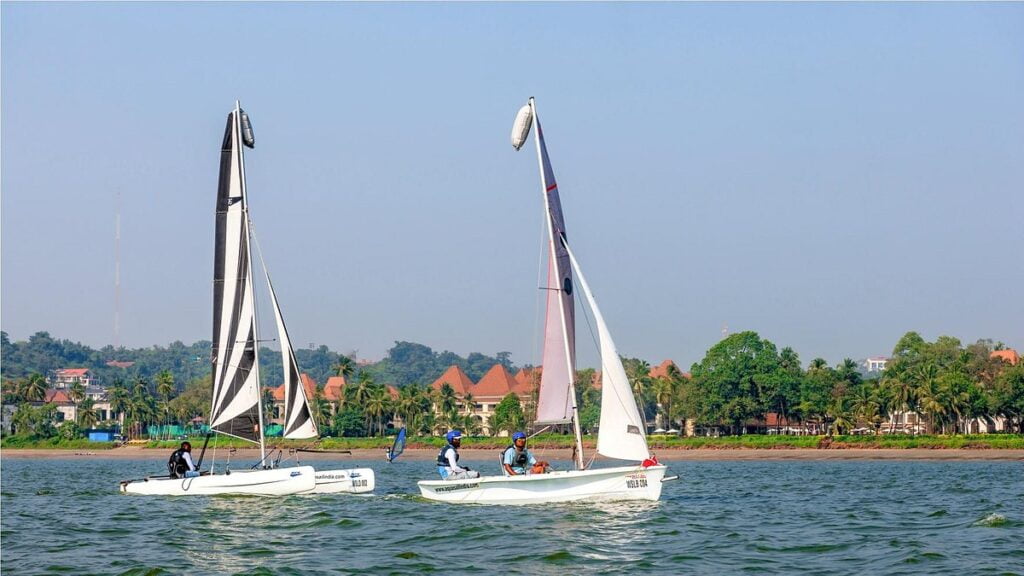 The resort's best view is undoubtedly the breathtaking Bambolim Bay, which provides a stunning backdrop for your wedding photos. Key features of Grand Hyatt Goa include:
Luxurious accommodations with modern amenities
Multiple indoor and outdoor venue options
World-class catering services
Expert wedding planning and coordination
A range of facilities, including a spa, fitness center, and swimming pool
Conclusion:
Grand Hyatt Goa is the ultimate destination for couples seeking a luxurious and unforgettable wedding experience. With its prime location, exceptional facilities, and impeccable service, this resort is the perfect choice for your dream wedding. Plan your special day at Grand Hyatt Goa, and create memories that will last a lifetime.