Your wedding day is an extraordinary event that you'll want to share with your friends, family, and followers. One of the most exciting aspects of your big day is your bridal makeup, which enhances your natural beauty and makes you feel like a true princess. To help you show off your stunning wedding makeup on Instagram, we've curated a list of the best bridal makeup captions and trending hashtags. Get ready to dazzle your followers with your unforgettable wedding day look!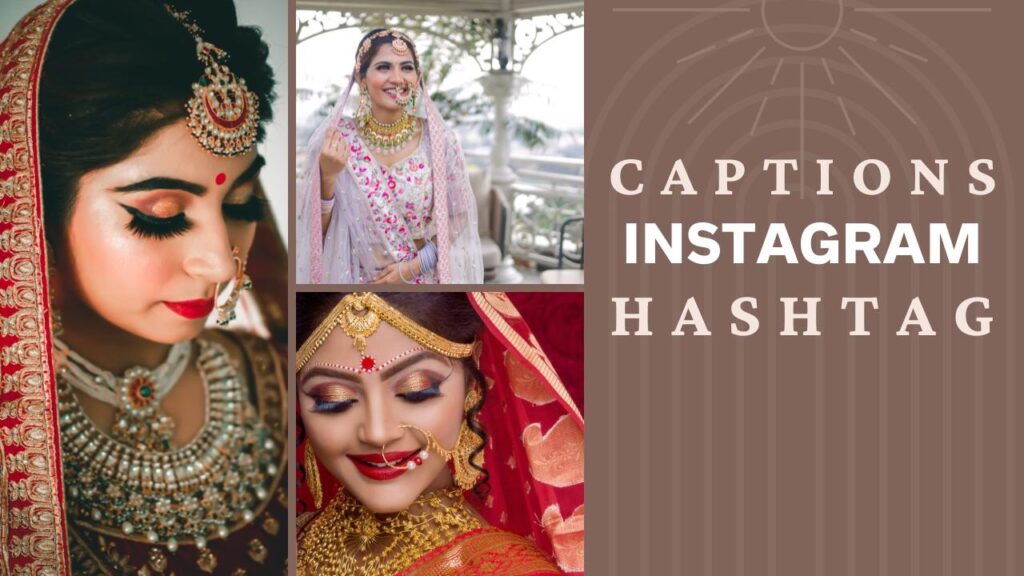 Classic Elegance: Captions for Timeless Bridal Makeup
For brides who opt for a classic, elegant makeup look, these captions will perfectly complement your timeless beauty:
"I've got that bridal glow.✨ #ClassicBride #TimelessElegance"
"A touch of elegance, a whole lot of love.💄💍 #BridalMakeup #EternalBeauty"
"Something old, something new, something borrowed, something glam!💋 #ClassicWeddingLook #TimelessBride"
Bold and Beautiful: Captions for Daring Brides
If your bridal makeup is daring and bold, these captions will help you express your fearless personality:
"Bold lips, beautiful bride, and a love story to be told.💋🌹 #DaringBride #BoldBridalMakeup"
"Embracing my inner queen with a touch of boldness.👑 #FearlessBride #BoldBeauty"
"Stunning and strong: I'm ready to conquer the world with you by my side.💪💍 #BoldBride #PowerfulLove"
Dreamy Romance: Captions for Soft, Romantic Makeup Looks
For brides who prefer a romantic, dreamy makeup look, these captions will showcase your enchanting beauty:
"Soft, romantic makeup for the day my dreams come true.✨ #RomanticBride #EnchantedBeauty"
"Whispers of love and a touch of magic for our happily ever after.🌸💖 #DreamyBride #LoveStory"
"A love as sweet as rose petals on a summer's day.🌹 #RomanticMakeup #EternalLove"
Bohemian Chic: Captions for Boho-Inspired Bridal Makeup
If you're a free-spirited bride who loves boho-inspired makeup looks, these captions will capture your unique essence:
"Boho beauty and a love that knows no bounds.🌿🌼 #BohemianBride #WildLove"
"A touch of nature's grace for a love that's free and wild.🍃💕 #BohoWedding #NaturalBeauty"
"Embracing my inner goddess with a boho-inspired bridal look.🌻 #BohemianBride #DivineLove"
Trending Hashtags:
To maximize your reach on Instagram and connect with fellow brides and wedding enthusiasts, include these trending hashtags in your bridal makeup posts:
#BridalMakeup
#BridalGlam
#BridalBeauty
#WeddingMakeup
#WeddingDayGlow
#MakeupGoals
#BrideToBe
#WeddingInspiration
#MakeupArtist
#WeddingDayReady
Your wedding day is an occasion to celebrate your love and commitment, and your bridal makeup is a beautiful way to express your unique style. These Instagram captions will help you showcase your stunning makeup look and connect with others who share your passion for all things bridal.